EUSA Lifetime Achievement Award goes to Professor Helen Wallace!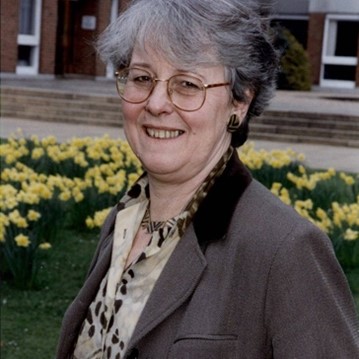 2021 EUSA Lifetime Achievement Award: Professor Helen Wallace
The Executive Committee of the European Union Studies Association (EUSA) has voted earlier this year to award Professor Helen Wallace with its 2021 Lifetime Achievement Award.
This award recognizes Professor Wallace's outstanding contributions to the study of Europe, including her remarkable academic impact as well as her extensive leadership to European Union Studies. We are thrilled to recognize her achievements and celebrate her many contributions with this prestigious prize.
Dame Helen Wallace, Lady Wallace of Saltaire, DBE CMG is an expert in European affairs and a Fellow of the British Academy. Wallace was educated at Oxford University (1963-1967), and later at the College of Europe in Bruges (1968) and Manchester University (1969-1973). She has held posts as a Lecturer in European Studies at the University of Manchester (1974-1978), Visiting Professor at the College of Europe, as well as taking the position of Secretary and Chair of the University Association for Contemporary European Studies (UACES). From 1992 she was Jean Monnet Professor of Contemporary European Studies at Sussex University, where she was appointed founding Director and Co-Director of the Sussex European Institute. From 2001 to 2006, she was Director of the Robert Schuman Centre for Advanced Studies at the European University Institute (EUI) in Florence. This was followed by her appointment as Centennial Professor at the European Institute of the London School of Economics (2007-2010).
Wallace is joining an impressive list of distinguished previous awardees, including Vivien Schmidt (2019), George Ross (2017), James Caporaso (2015), Alberta Sbragia (2013), Jeremy Richardson (2011), Philippe Schmitter (2009), Fritz Scharpf (2007), Eric Stein (2005), Stanley Hoffmann (2003), Leon Lindberg (2001), and Ernst Haas (1999).
Originally, we had planned to present the award during our May 2021 EUSA biennial conference in Miami, FL. Due to the COVID-19 pandemic, we have postponed that meeting by one year to May 5-7, 2022 (still in Miami, FL), which we very much hope you will all be able to attend (working under the assumption that COVID-19 will be mostly behind us by then).
We trust all EUSA members join the Executive Committee in congratulating Professor Wallace on this well-deserved award.
Best wishes,
Matthias Matthijs, Chair
Sara Wallace Goodman, Vice-Chair
Rachel Epstein
Christina Schneider
Stephanie Hofmann
Milada Anna Vachudova
Jae-Jae Spoon (ex-officio)
Joe Figliulo, Executive Director